UNESCO Global Geopark
Thuringia Inselsberg – Drei Gleichen
Although the UNESCO Global Geopark Thuringia Inselsberg – Drei Gleichen is one of the smaller German geoparks with an area of about 700 km2, it is a place where big things happened in the past: here you can explore Pangaea, the supercontinent which existed for around 100 million years. You can also get to know some of the inhabitants of this continent, the tetrapods, on the Sauria Discovery Trail for example.
But there is so much more!
There are many ways of discovering our unique geological heritage: you can visit our GeoInfoCentres and GeoMuseums with their interesting exhibitions or join a certified GeoPark Guide on an interesting organised walk. You can also convince yourself that there is more to the culinary heritage of Thuringia than the Bratwurst. The Geo- and Pleasure Trail offers culinary highlights as well as unique geotopes, which provide insights into the interesting development of today's landscape and the use of raw materials.
Have we kindled your curiosity? Then come and visit us soon! Discover and experience the natural diversity and its fascinating past. Come and join us on an adventure and dive deep into the geological history of the Geopark Thuringia Inselsberg – Drei Gleichen.
20 Years Geopark Thuringia Inselsberg - Drei Gleichen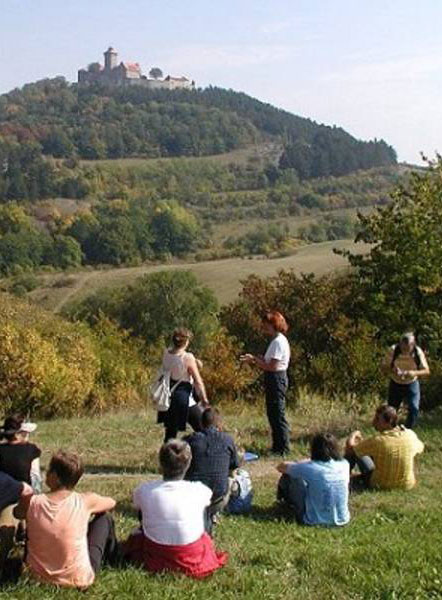 Experience the geopark
What can you discover here?
The UNESCO Global Geopark Thuringia Inselsberg – Drei Gleichen offers a wide range of opportunities to discover earths history. The geoinformationcentres, for example at the Marienglashöhle (Mary's cave) Friedrichroda or in the 'culture barn' Mühlberg, provide exhibitions and information about geology, mining, biology and famous researchers. In tourist mines like the fluor and heavy spar mine "Hühn" in Brotterode-Trusetal, the Marienglashöhle or the mine Finstertal you can explore the mining history of the region and learn more about mining in the past.
17 georoutes will guide you through the geopark and offer information about saurians, ancient reefs, geology and mining or famous thuringian culinary specialties.
If you would like to learn more about special topics close to your holiday destination, you can join a guided tour with one of the certified geopark tour guides.
360°- Panorama video from the highest peak in the geopark: the Grosser Inselsberg. Click the video to get more information!
All georoutes at a glance
UNESCO Global Geopark Thuringia Inselsberg – Drei Gleichen
Gartenstr. 9 · 99894 Friedrichroda
Telephone 03623-3320-0
info@thueringer-geopark.de

The content revision and English translation of this website was funded by the Federal State of Thuringia/Ministry of Environment, Energy and Nature Conservation (TMUEN).