Dripstone Cave Kittelsthal
In an abandoned mine you will enter the only fully developed dripstone cave in Thuringia. This unique subterranean world was opened for visitors already in 1896. The guided tour will take you 48 m deep into the Earth.
Since 3 October 2022, visitors can once again descend into the mysterious underworld of the Kittelsthal dripstone cave. During the 1-hour guided tour, the cave guide will tell you all about the geology and history of the cave, which was once discovered through barite mining. At a depth of 48 metres, you can admire stalactites and stalagmites that are several thousand years old. For example, the "pyramid" in the Great Grotto. Smaller cavities branch out from the Great Grotto and can be reached via further passages.
Dripstone Cave Kittelsthal
Bergstrasse
99842 Ruhla/ OT Kittelsthal
Telephone: 036929-89013 or 0160/94440973
Email: tropfsteinhoehle@ruhla.de
Click here for the website! (external link)
Opening hours:
1 April - 31 October
Wednesday for groups by appointment
Thursday-Friday: 10:00 a.m. - 6:00 p.m.
Saturday, Sunday & public holidays: 1:00 - 6:00 p.m.

November 1 - March 31
Wednesday for groups by appointment
Thursday-Saturday: 10:00 a.m. - 6:00 p.m.
Closing times of the Dripstone Cave Kittelsthal 2023
20-23 April 2023
19-27 May 2023
15-27 August 2023
15-16 September 2023
26 October 2023
04-11 November 2023
16-30 December 2023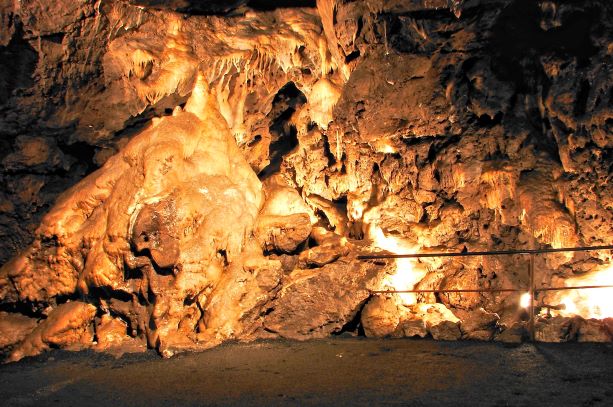 The information leaflet of the Dripstone Cave Kittelsthal is currently only available in German.